1612 John Smith Map of Virginia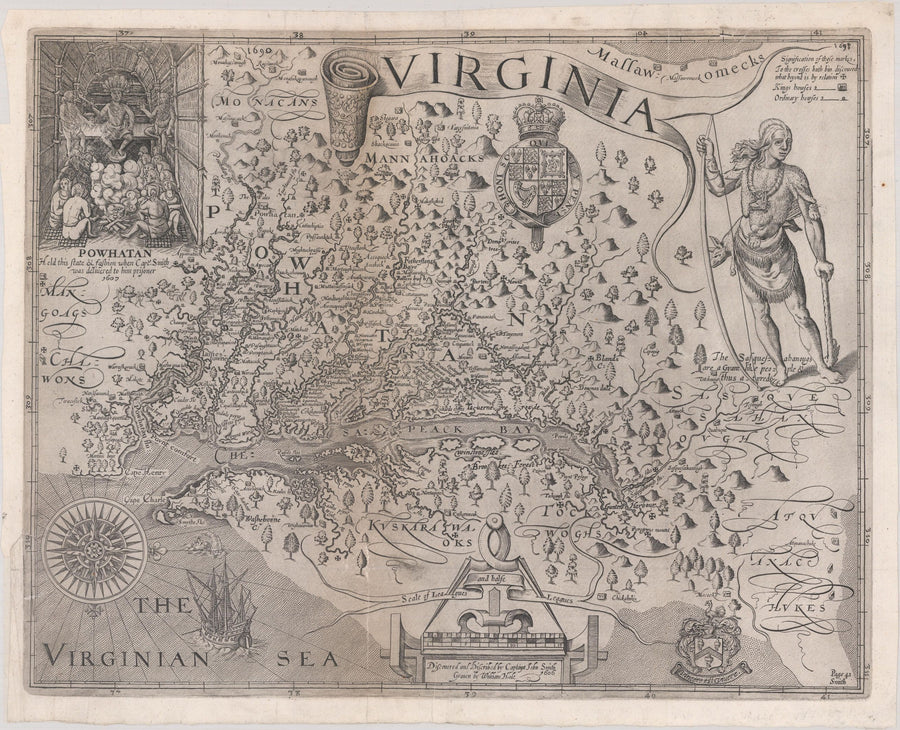 The John Smith map of Virginia, from the early Seventeenth century, is one of the most desirable and sought after maps for the advanced collector.
This incredible map where the likeness is displayed in many historical parks, public museums and societies is highly esteemed due to its connection to Captain John Smith.  Smith was an early English explorer who played a key role in establishing the colony at Jamestown, Virginia.  Jamestown was the earliest permanent English colony in America.
Few of the many prominent museums, library collections and well established universities own an original, genuine copy.  
As Philip Burden, a map specialist and prominent researcher, noted in his publication and studies: One of the most important printed maps of America ever produced and certainly one of the greatest influence. It became the prototype for the (Virginia and Chesapeake Bay) area for half a century until Augustine Herrman's map of 1673. First issued separately in London, it accompanied many editions of various publications for another twenty years. It, therefore, was seen widely and inspired much interest in the fledgling Virginia colony, influencing considerably its eventual success.
In 1606, Captain John Smith was sent by the London Company to lead the Virginia Colony to establish the first permanent settlement in Jamestown.  
Between 1607 and 1609, he explored the major rivers which flowed west into the Chesapeake Bay, recording the names of Native American villages and the tribes he encountered during his exploration.   In 1608, Smith and 14 others were sent by the London Company to survey and seek passage to the West in according to the company sponsoring the Jamestown Colony.
John Smith's returned to England in 1609,  William Hole was asked to engrave a map, first appearing in Joseph Barnes' booklet in 1612. It appeared again in 1624 in his landmark publication, The Generall Historie of Virginia, New-England, and the Summer Isles. In 1625, it was included in Purchas His Pilgrimes.
The map shows various Native American villages, which is used widely for exploration even to this day as it was during the early Jamestown era.