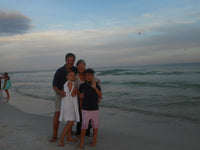 Meet Rick
With a background in fine collectibles (since 1974) and owning an archival framing business (since 1989), Rick Badwey has established a reputation of providing original art and artifacts with 100% museum grade framing.
From ancient antiquities to 20th century artifacts, Rick has handled a diverse group of popular and important collectibles. Since school days, Rick has bought, sold and traded historical documents, rare and ancient coins, antique maps and other artifacts with museums, collectors, libraries and dealers.
After college, because local framers did not provide the quality of framing needed to protect his collection, he started a framing business that specializes in protecting and preserving art and historical collectibles. Over the years, collectors, dealers, galleries, museums, libraries and the general public have sought his services for preserving and framing their collections.
Over the years, Rick has served as an officer of a Washington, DC. based museum conservation organization, lectured on related subjects and has authored articles for collector and framing publications and blogs. It's critical for people to know how their art and artifacts are framed so their items don't incur damage from improper mounting and framing.
It was the combination of these longtime skills and personal interests that has led Rick to establish Frameabilia. The rest, as they say, is history.
Our Framing
Our many years of conservation framing knowledge and experience is used in everything we frame to protect the item(s) from any harm or deterioration. Not only does this protect their value, but also preserves their beauty.
Over the years, we have seen many historical and personal items damaged from improper framing methods. Museum grade framing is extremely important for the preservation, safety and conservation of your cherished art and artifacts. Never compromise on the quality of the glazing, matting, mounting or the backing of the framing. All of these components are important for the protection of your framed items.

When framing, we only use methods and materials that are reversible. Reversibility means the art or artifact can be easily removed from the frame without harm. Also, the framing materials or techniques will not adversely affect the artwork. This is vital for protecting and maintaining the framed item's value and condition. You would be surprised how artwork is often damaged by a gallery owner's or framer's carelessness.

Frameabilia only uses museum grade framing materials and workmanship on our art and artifacts. From 99% UV filtered glazing to the highest grade mattings and backings, we employ all the necessary ingredients.
All of our framing is done in Virginia under the care and direction of Rick Badwey.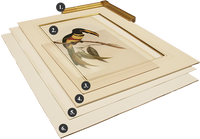 3.
99% UV Filtering Glass or Acrylic
6.
100% Archival Final Backing