Collecting and Framing George Washington Signed Documents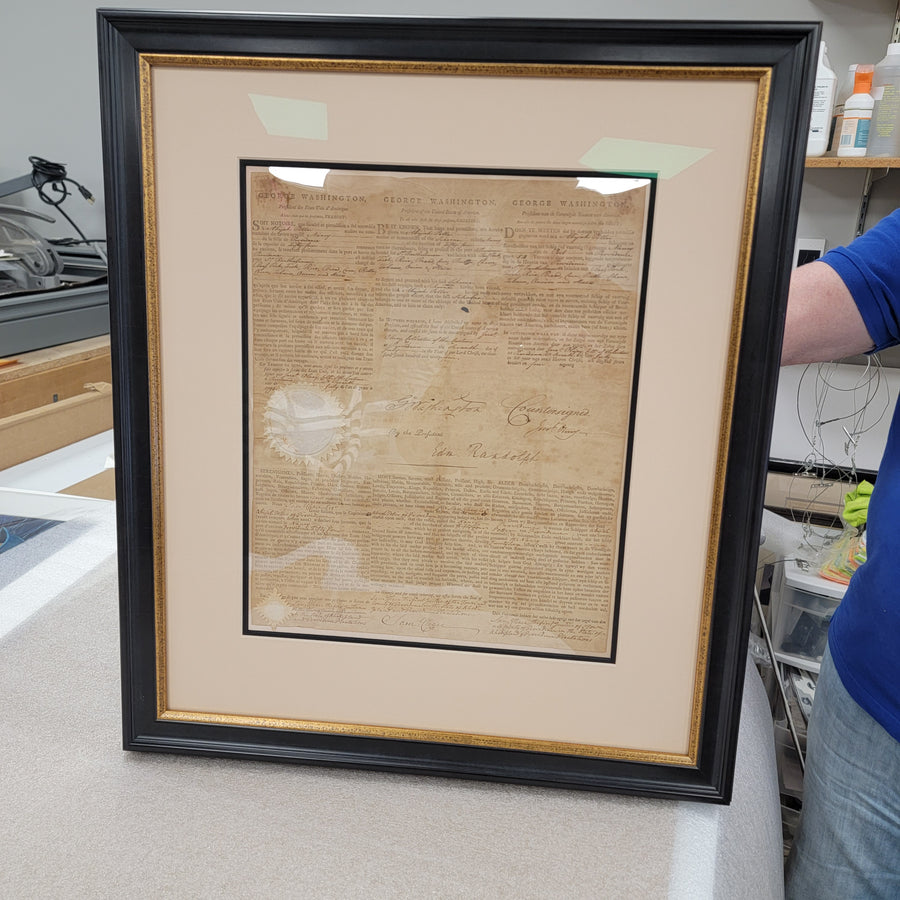 When I was collecting coins, it was exciting imaging who touched or held that coin from the late 1700s.  One's mind would wonder.
In historical documents and autographs, when you hold a document signed by George Washington, you are definitely sure he held that document or letter in his hands.
Over the years, I have handled documents signed by George Washington.  Whether for purchase or for framing, holding such a spectacular item never gets boring!  
As a collector and dealer of historical documents and autographs, I truly appreciate the history and scarcity of these significant pieces of history.  Owning or framing a historical document signed by our first president and important founding father is a tremendous honor.
Most professional paper conservators will undoubtedly state that no tapes (even archival) or adhesives of any kind should ever be attached to the letter of document.  This will add an evasive element to the document and may even make it harder to remove or stain the area over time.
At Museum Framing, we deacidify the document to neutralize the acids and stains in the paper and encapsulate it in clear archival Mylar polyester sleeves.  This keeps the document safe and is fully reversible should one want access to it.
We also use Mylar strips and Mylar corners based on the weight of the paper to protect it while being displayed in the frame.
In this case, encapsulated the document in Mylar for maximum protection and used 100% cotton rag matting, backing and 99% UV filtered glazing.
When owning or framing a rare and desirable document like a George Washington presidential document, make sure to use the proper materials and techniques to ensure its longevity.
Over the past years, we have disassembled frames before buying or framing such important documents and letters only to find harmful mats, glazing or mounting techniques were used in the framing process.
As a matter of fact, when other collectors were concerned or saw evidence of any deterioration of their prized possession, we would be sent the item to confirm the lack of needed proper museum grade components.
In one case, a well known dealer had a Thomas Jefferson and Abraham Lincoln signed document framed locally for his collector. Several years later, the collector noticed slight fading in Jefferson's name and the engrossment of Lincoln's document.
When we took apart the framing, we noticed both had regular non protective glazing in the frame...even when the collector was affirmed the framer used the necessary materials.
Please!  Be careful when having your valuable letters and documents, as these priceless pieces of artifacts are in your curatorial care until the next owner takes possession.