George Washington and Thomas Jefferson Signed Document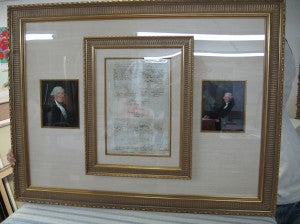 One of the most desirable autographs to collect in the presidential and historical manuscript world is one that has both signatures on the same document, specifically, George Washington and Thomas Jefferson.
This particular document would display the signature of George Washington as President and the signature of Thomas Jefferson as Secretary of State.  Jefferson served as Secretary of State from 1790 to the end of 1793.  
Think about it for a moment, having two of the most famous men in U.S. history on one document is breathtaking!  Having these two men touch and sign that document is enough to give you a chill.
Finding a document with both combination signatures is getting rarer as these documents have grown in popularity.  They are certainly desirable and highly collectible. A version of the document exists where each President signed twice! Once on the front and once on the back.
The frame, shown here, is a rare three language ship's papers with both signatures on each side.  This is because this document has four columns of text, two on each side. One side includes the Dutch and English language, with English and French on the other side.  And, both Washington and Jefferson side each side attesting to the purpose for the voyage.  Hence, the need to have a hinged door frame so one can view both sides of the document without taking it off the wall.
This document was carefully framed with mylar encapsulating it to protect it when mounting and framing it.  Mylar is a much better and more protective way of mounting a rare and valuable document than any other means.  No glue, tape or any adhesive comes in contact with the document.
In this case as the photo shows,  the document is hinged on a larger substantial frame with portraits, beneath the document is a descriptive plaque describing the document.
Having such an exceptionally desirable document on your wall makes an amazing conversation piece for the history buff.