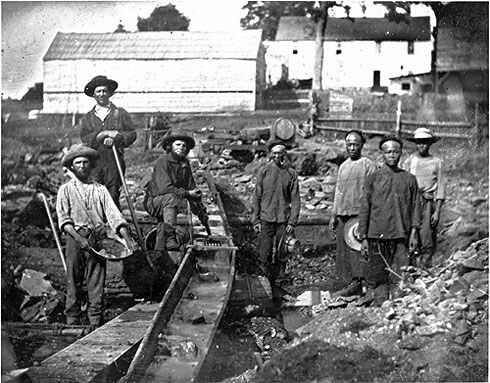 There's Gold in them thar Hills was a famous "misquote" attributed to a character in Mark Twain's 1892 American Claimant.  Contrary to what one would expect, it was the Georgia Gold Rush NOT the California Gold Rush of 1849 that Twain's novel was referring to in this context. The character, Col. Mulberry Sellers, was thought to be a Georgia mint (Dahlonega) assayer.
However, the famous California Gold Rush was discovered on this day, January 24, back in 1848. not 1849.  It was then that a carpenter from New Jersey, James Marshall, discovered gold flakes at Sutter's Mill at the American River at the base of the Sierra Nevada Mountains. This was around the Sacramento area. Coloma, California to be exact. 
Sutter's Mill was a saw mill owned by John Sutter, a German born Swiss pioneer of California.  This single event led to the westward expansion of the United States and became one of the most important events in the history of the United States.
This single gold discovery by James Marshall led to the incredible California Gold Rush of 1849.  The gold rush had a dramatic effect on the cultural makeup and population of California.  One effect was a drop in the population of the natives from 150,000 to 30,000.  This was mostly due to death, but also relocating from their homes was another factor.
One of the earliest settlers of Coloma was Nancy Gooch, one of the first African American women to succeed in California.  She was a free black woman when her master relocated her and her husband from Missouri.  In 1849, she earned money at gold mining grounds doing chores for miners.  Gooch and her husband saved enough money acquiring land eventually owning over 300 prime acres in the region.
Conversely, non natives rose from 14,000 to over 100,000 in over a year.  Many people hearing the gold discovery news and seeking quick wealth came far and wide to this area.  Chinese, Mexicans and the eastern portion of the United States saw a drop in their populations with people going westward. This rapid popularity and economic boom caused California became the 31st state on September 9, 1850
During the gold rush, which spanned from 1848 to 1855, more than 300,000 people descended into the northern California terrain and more than 750,000 pounds of gold was extracted by miners.  That is equivalent to over $18 Billion today.
California has been a leader in wealth creation whether it was the gold rush or the modern day tech boom. California has been a center of wealth, luxury and opulence for many years.