Send Him to His Mother (Abraham Lincoln)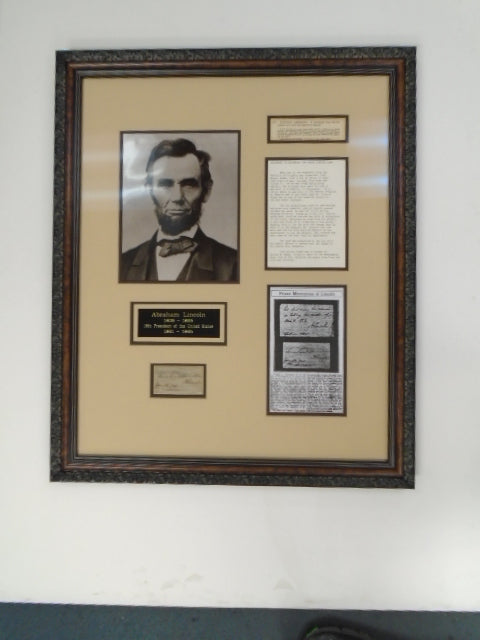 One of the most interesting items I have framed lately is a note written by Abraham Lincoln toward the conclusion of the Civil War where he orders a young man to be sent to his mother.  Rarely did President Lincoln evoke emotions in his orders, such as discharges, but this one must have really stirred Lincoln to react.
Sometime ago, I received a call from two brothers who purchased an Abraham Lincoln signed note which they wanted properly preserved and framed.  They called from north of Philadelphia (about 3 hours from here) and wished to have this item framed with the accompanying pieces of artifacts attesting to the note's history and provenance.
So, they made the trek to come down here and we discussed framing options and how the signed note would be protected from adverse elements.  Being such a prize find, they wanted to ensure its longevity and create a museum display piece to be admired.  After seeing and reading the papers and history, I completely understand.
The note refers to a boy by the name of John Quincy Adams.  No, not the president, but the namesake the boy shared with the president who served as president about about 40 years prior.
It was stated that the president was visiting a hospital in Washington, D.C. when he came upon a young boy, about 12, who was wounded in the war. Lincoln was known to visit soldiers, who were wounded in the tedious years of the war, through his personal travels.  The young boy touched Lincoln's heart deeply. The young lad's condition and need for his mother moved Lincoln emotionally.
Disregarding the strict, firm rules of military life, Lincoln immediately wrote on this card "Send him to his mother. A.Lincoln Jan. 19, 1865"  This allowed the boy to be dismissed from the hospital and sent to the care of his mother.
This short note demonstrated President Lincoln's care and admiration for those who fought against a divided nation, especially the young men who were thrown into a bitter and agonizing war of brother against brother.
An incredible piece as this short note evokes the harsh realities many of our young men faced when they left home and took up arms in an unpopular struggle.
This note, written and signed in the hand of President Abraham Lincoln, deserved only the finest protection of high quality framing. This incredible piece of history that Lincoln emotionally wrote to a young lad lying in a hospital will be protected for many years.