Why Collecting Antique Stocks and Bonds Can Be Rewarding and Addictive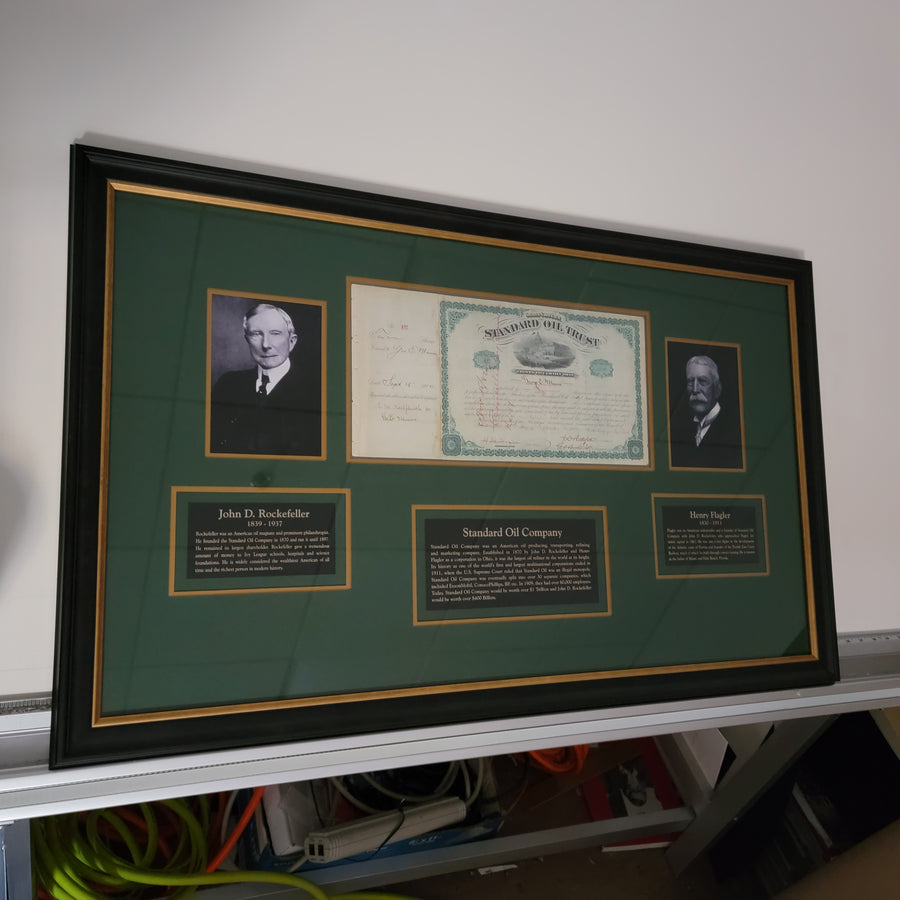 When I first started framing historical documents, dealers came to me asking to frame antique stocks and bonds for their clients.  These certificates had very striking designs and many were signed by famous people.
Soon, once I worked with dealers, collectors and investors of such incredibly attractive and significant historical documents by famous businessmen and women, scientists, inventors and politicians, I got hooked and caught the collecting bug.  When you talk about framing both history, value and beauty, few things can compare to stock certificates and bonds.
Some of the older certificates were printed with ornate vignettes, colorful printing and fancy designs. A lot of companies wanted to make their certificates appealing to investors and display a strong solid image to outsiders.
Knowing that many of these documents were signed by such incredibly famous luminaries as John D. Rockefeller, J.P. Morgan, Thomas Edison, Hetty Green and Jay Gould was fascinating to me.  These wealthy, busy individuals had the time and desire to sign each of these financial instruments which is truly amazing.
Stocks and bonds were and are issued by companies to raise capital for initial funding, undertake new projects or continued growth.  With expansion, as businesses grew and expanded, more shares were issued to keep up with the growing demand from investors.  When the shares were traded on the secondary market, the popularity and value may increase. Thus, entrepreneurs were born and  mega millionaires and billionaires were created! 
It's like that today, but now paper shares are not traded over the exchange as back in the day.  Trading is done through virtual means.  Actually, it went from real paper certificates to book entry to, now, virtual trading.  Yes!  today's wealthy business entrepreneurs creating and growing large corporations are too busy to sit down and sign their financial certificates.
However, I have found that many hedge fund managers, investment bankers, and even successful professionals outside the financial world truly enjoy collecting and displaying these beautiful documents to enjoy for many years.  Many of my buyers have diverse occupational backgrounds but they love the strong business spirit these entrepreneurs had of yesterday.
Before I entered the museum framing business, my occupation was a stockbroker.  It was neat seeing some of these certificates on fellow broker's walls.  Although, as mentioned above, the fascination of these financial instruments didn't grab me until my business framed them.
The collecting of antique stocks and bonds is called scripophily.  It comes from the word "scrip" which means a substitute or alternative to legal tender. Holding a paper scrip means the bearer (owner) is entitled to receive something in return.  Scripophily has been a very popular hobby in recent years and new collectors keep popping up.
When framing these antique paper documents, keep in mind they weren't usually printed on the best paper as they were printed by hundreds or thousands to sell to investors. They may also have cancellations and old glue to keep the stub attached to the certificate.  These markings can stain the areas and need special care when framing.
When framing, never use "acid free" mats which are made from wood pulp.  These will cause staining on the document where the mat came in contact with the document. This is caused a mat burn as shown below.
Only 100% cotton rag material should be used for matting and backing.  99% UV glass is needed to ensure the signatures are preserved and don't fade.  The last thing you want is a faded autograph on these or any other exceptional documents.
Finally, reversible hinging must be used to ensure the longevity and protection of these certificates from harm.  Mylar corners, strip sides or light encapsulation are the best methods. Don't use household tapes, glues or other evasive adhesive on these certificates.
Our business, Museum Framing, has framed such attractive certificates and other documents since the 1980s.  It is important to us to ensure their protection for long term preservation.  Being a collector and dealer, I have a vested interest in ensuring their safety when framing.
By ensuring their care and preservation,these documents will be around for future generations to enjoy.