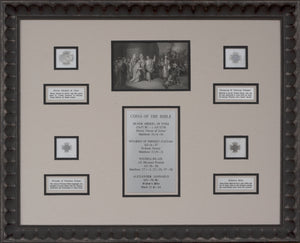 Ancient Coins of the Bible
Imagine owning a collection of ancient coins handled by citizens who witnessed the ministry and travels of Jesus Christ.
Add to that the interesting fact that each of these coins appears or is mentioned in the Bible.
One coin signifies the ruler who presided over the crucifixion of Jesus Christ. Biblical verses relating to the coin are engraved beneath each coin. What a fascinating assemblage to own. Included are two genuine silver coins, the Shekel of Tyre and Denarius of Tiberius (Caesar), the Widow's Mite and Prutah of Pontius Pilate.
Since these coins were minted and circulated during the time of Jesus Christ and in the regions of this travels and preaching, it is not unreasonable to figure that many people who touched these coins probably met our Lord.  Let that sink in for a second!
Each coin has been individually graded and authenticated by Numismatic Guaranty Corporation (NGC), an internationally renowned authenticating organization based in Florida with offices throughout the world and whose staff includes long time specialists of U.S. and Ancient coins.  NGC has been around since 1987.
The holders are carefully mounted and matted to protect the holder (and coin) while only displaying the coin for aesthetics. Each holder is in a durable numbered secure holder which can be referenced online for protection and security.
Information and illustrations of each coin and holder are attached to the back of the frame for your peace of mind.