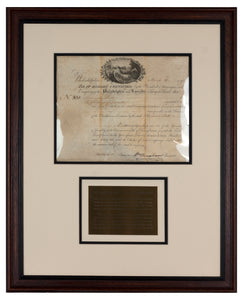 Philadelphia and Lancaster Stock Certificate signed William Bingham
This 1795 turnpike stock certificate was for the first long distance paved road (first  turnpike) in the United States.
This stock also has one of the earliest vignettes used on a financial instrument. Signed by William Bingham (1752-1804) as its first president.  Bingham was the founder and director of Bank of North America, which was the first bank in the United States. He was one of the richest men of Pennsylvania.  Bingham served in the Continental Congress and United States Senate.  
Printed on vellum (animal skin), this simple stock certificate represents early investments in the growth of our young country and depicts a vignette of a covered wagon passing through a toll gate.