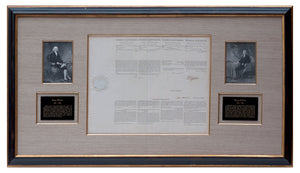 Thomas Jefferson and James Madison signed document
The Author of the Declaration of Independence and Father of the Constitution on one document.
This document bears the signatures of two important founding fathers.  Thomas Jefferson was the author of the Declaration of Independence and played critical roles during our nation's infancy.  Madison was the "Father of the Constitution" and president during the War of 1812. 
Notice the document has four printed columns printed in French, Spanish,  English and Dutch for easy translation, hence, the term "Four Language Ships Document". 
Such papers were important for ships to carry on board to show peaceful commerce was to be conducted with other countries.  Beautifully signed by Thomas Jefferson as President and James Madison as Secretary of State, this historical document makes a fine display.  Big bold signatures grace this large ship's papers.