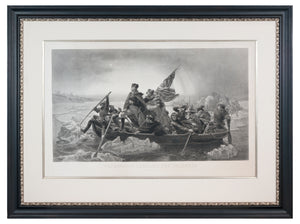 Antique Engraving George Washington
This breathtaking engraving was engraved by Paul Girardet and published by Goupil & Co.  Entered according to Act of Congress 1853.  The size of the engraving is approximately 42" x 27".  Framed size is 55" x 42".  Framing involved the use of 100% Museum Grade materials and techniques
Emanuel Leutze's famous painting of Washington Crossing the Delaware commemorates the crossing of the Delaware River by General George Washington and the Continental Army on the night of December 25-26, 1776.  This was the first move in a surprise attack against the Hessian forces at Trenton, New Jersey, in the Battle of Trenton.
George Washington is strikingly emphasized by an unnaturally bright sky, while the sun highlights his face. Washington's boat is definitely the main point in the painting, while other boats are subtly shown in the background
The boat shows a diverse culture of people living in the American colonies. Noticing this and their positioning and facial expressions really makes a strong statement on the artist's perception of how a diverse group of people are working together to help General Washington defeat the enemy in the American Revolution.
This includes a man in a Scottish bonnet, a man of African descent facing backward next to each other in the front, western riflemen at the bow and stern, two farmers in broad-brimmed hats near the back (one with bandaged head), and a masculine rower, possibly meant to be a woman in man's clothing.  At the back of the boat, a man is wearing what appears to be American Indian garb to represent the idea that all people in the new United States of America were represented as present in the boat along with Washington on his way to victory 
According to the 1853 exhibition catalog for Leutze's painting, the man standing next to Washington and holding the flag is James Monroe, fifth President of the United States, and the man leaning over the side is General Nathanael Greene.  General Edward Hand is shown seated and holding his hat within the vessel.
Examples of this size are very rarely found in the secondary market.  A similar rendition of this exact engraving is in the collection of George Washington's Mount Vernon and the Yale University Art Gallery, acquired in 1975.