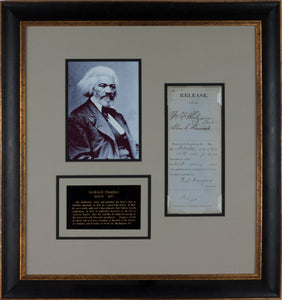 Frederick Douglass Signed Document
Did you know that many Northerners, back then, found it hard to conceive that a great orator and learned person was born a slave?
Did you also know that Douglass was nominated as Vice President in 1872?  Just a few years after the abolition of slavery.  By the way, Douglass was on the ticket of Victoria Woodhull (Equal Rights Party).  Ironic that both ran for these high offices before women were given right to vote (1920) and 2 years after African American men were granted the right to vote.
On a separate note, did you know that two African American men served as U.S. Senators after the abolition of slavery...and from Mississippi?  Hiram Revels in 1870 and Blanche Bruce in 1875.
Frederick Douglass was an abolitionist who signed this deed as a Recorder or Deeds for the District of Columbia in 1883. Douglass is considered the father of the civil rights movement and was instrumental in supporting women's rights and social reform.  He advised presidents and gave lectures in many states being known as a great orator.  A true pioneer of his day.