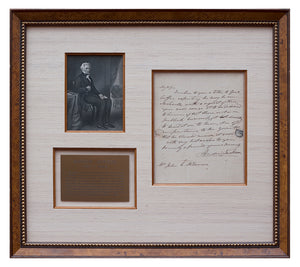 Andrew Jackson Autograph Letter Signed
Andrew Jackson had a prolific background in military and politics before landing in the White House.  Among his most notable achievements, the Battle of New Orleans made him a national hero.   This campaign in the War of 1812 in defending New Orleans against British and Native American attacks gave him true fame.
Andrew Jackson also led the U.S. in the First Seminole War, which led to the annexation of Florida from Spain. 
This is a letter written and signed by Jackson to John C. McLemore about the whereabouts of General Coffee and delivering a letter to him in Nashville. Old Hickory, as he was known, found the Democratic party.
Did you know that the Jacksons did not have biological children but adopted many through inter-relationships with youths as children or wards.