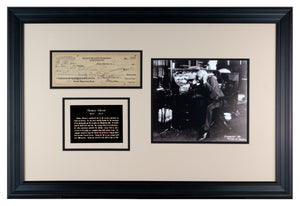 Thomas Edison Signed check
The Man with over 1000 inventions to his name!
Thomas Edison was a prominent inventor of modern times. As a matter of fact, he is considered America's greatest inventor.  This is a check signed by Edison bearing his distinctive umbrella signature.  Edison was prolific with about 1000 inventions to his name including the phonograph and electric light bulb.  Along with being a famous inventor he was also known for making well remembered quotes, such as Genius is one percent inspiration and ninety-nine percent perspiration.