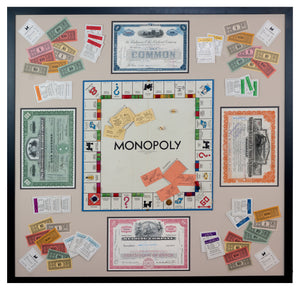 Framed Vintage Monopoly Game with Railroad Stock Certificates
All that can be said is WOW!
The Antique Monopoly framed ensemble has been one of the most popular framed sets we have assembled.
The Monopoly Framed set is about 80 years old and the stock certificates are historical, genuine and authentic.  Each of these stock certificates represents all 4 Railroads on the game board.
The Short Line Railroads are very hard to come by as other sellers of these certificates sell only 3 certificates and use a non related fourth certificate to fill in the set.  Not good!
We use the rare actual certificates of the Short Lines of the Monopoly set.
This display encases an original vintage monopoly game set (real wood houses, playing pieces and hotels) in play with four genuine antique stock certificates of the Railroads surrounding the game board. No glazing is involved in this framing to add 3-D life to this impressive ensemble.   A great conversation piece for any home or office décor.  This presentation will make a statement in an office setting or home.  Very stunning and bold.