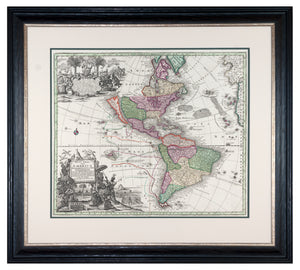 America with California as an island
This striking early map of the Americas features a prominent island of California.  These maps are highly collectible due to their unusual depiction of California being separated from the mainland.
This map shows the Great Lakes are somewhat distorted, with large spurious bays on the west coasts of lakes Superior and Michigan. The depiction of the Northwest Passage is noticed at through a portage between rivers. The map is filled with place names and details the tracks of the major voyages of exploration in the Pacific. Exotic birds are evident above the large title cartouche that depicts Native Americans fishing, cutting sugar cane, farming, and paying tribute to a chief. A secondary cartouche contains text relating the important discoveries in America and the conversion of the natives to Christianity. Matthaus Seutter is the cartographer.