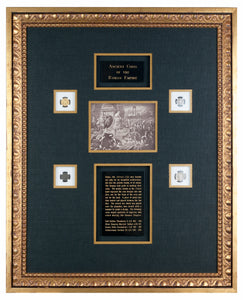 Ancient Coins of the Roman Empire
Remember studying the Roman Empire in school?  Well, this amazing collection of ancient coins was circulated during the time of Roman domination in the world. This collection contains a solid sampling of the most popular and desirable coins from that era, including coins minted during the height of the Roman Empire.  Included in this display are the following coins: a silver/copper based Antoniannus, silver Denarius,  bronze Follis and a solid gold Solidus. These great representations depict images of famous Roman rulers and religious leaders of the era.  Ancient Roman coins are highly collectible and in demand.
Each coin has been individually graded and authenticated by Numismatic Guaranty Corporation (NGC), an internationally renowned authenticating organization based in Florida with offices throughout the world and whose staff includes long time specialists of U.S. and Ancient coins.  NGC has been around since 1987.
The holders are carefully mounted and matted to protect the holder (and coin) while only displaying the coin for aesthetics. Each holder is in a durable numbered secure holder which can be referenced online for protection and security.
Information and illustrations of each coin and holder are attached to the back of the frame for your peace of mind.