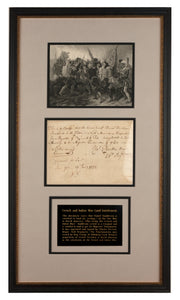 French and Indian War Signed Document
French and Indian War related documents are rare and desirable as this was the period the American colonies had true allegiance to the British Crown. 
This document states that land is given to people serving in the "late war in North America"(French and Indian War) for military service.  This entitlement document was written in 1772 after the conclusion based on the Proclamation of 1763.  A great display showing a document of utmost importance when the Colonies were nearing the end of their loyalty to the British.  Thus, the American Revolution was just around the corner.