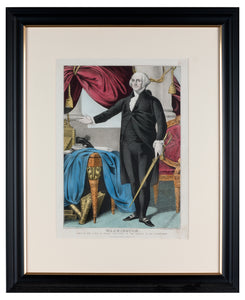 Original Antique Lithograph of George Washington
Striking original hand colored lithograph of our nation's first president.
Kelloggs & Thayer, c. 1846-1848. Hand-colored full-length lithographic portrait, vivid coloring.  Henry Lee III (1756-1818) was selected by Congress to deliver Washington's eulogy on December 26, 1799. He said in part: "First in war, first in peace and first in the hearts of his countrymen, he was second to none in the humble and endearing scenes of private life..." A popular image of our first president.